24 Nov

How small Irish businesses like Hubbcat are preparing for Brexit

The Journal.ie – Nov 9th 2020

AS BUSINESSES AROUND the globe continue to adapt and react to COVID-19, there's another event on the horizon that may cause multiple challenges for business owners: Brexit.

Although the UK left the EU on 31 January this year, the Withdrawal Agreement has allowed for a transition period until 31 December, during which EU rules and regulations will continue to apply to the UK.

From 1 January 2021, however, this will change.

Simon Smith, Chief Financial Officer for Wicklow-based telecommunications company Hubbcat, spoke to TheJournal.ie about how his small business is preparing for Brexit, and how his Local Enterprise Office helped.

Hubbcat, which launched at the end of 2019, provides private communications systems that work over the mobile phone network. "It's like combining the benefits of a walkie talkie with a mobile phone, with a lot more functionality," explains Simon.

"When we started out, a lot of our business was going to be for the events management and hospitality sectors," he says. "So if you go to a festival or a GAA match, you see all the security and other staff that have big walkie talkies. Well our idea is, rather than have that, you can have it on your mobile phone, or a small device. So if you want to speak to 100 people in the event, you can immediately do that. It allows for all of that sort of functionality."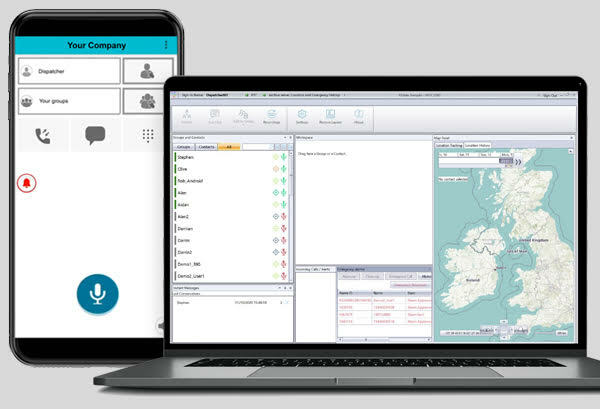 A Hubbcat phone and tracking dispatcher.Source: Hubbcat
Since COVID-19 has halted Hubbcat's plans for events sector, the team "had to try and look at other ways to make it work."
"The first area that we targeted is around facilities management," he says. "So if you're in a store, security are using it so they can they can talk to each other across three or four massive department store floors. They can get in touch with each other quite quickly."
They also found a way to use their technology to help control the spread of COVID-19 – a system which is currently in place in the Bahamas.
"We've got a geo fence which means you can target where somebody is. You can say they have to stay within a certain area, so if they move out of that area, it sets off an alarm and therefore the police can come down and go, 'what are you doing?'"
After adapting Hubbcat during a global pandemic, how does Simon see Brexit affecting the business? With a supply chain that at times comes through the UK, Simon's business could face severe disruption if there are delays at customs.
Furthermore, some of the Hubbcat's future expansion plans have had to be put on hold.
To help prepare for Brexit, Simon completed the Prepare Your Business for Customs workshop online with his Local Enterprise Office.
"Our Local Enterprise Office has been amazing," he says. "They've been involved in the business right from the start."
"I did the course online over three days for two or two and a half hours at a time and it was really helpful."
After completing the course, Hubbcat has been able to prepare for potential obstacles.
Source: ShutterstocK
"On the supply side, potentially we may have to buy devices from Europe, instead of the UK. At the moment, we've bought a mixture of devices from different parts of the EU plus the UK but I think, going forward, it's more likely that we'll be end up just bypassing the UK to avoid all the sort of hassle with that."
"Our main markets are Ireland and the Caribbean, but we were already pitching for markets elsewhere. We don't know… what's going to happen," says Simon.
Thanks to his training with the Local Enterprise Office, Simon now also has a contact in there who he can go to once the new rules and regulations surrounding Brexit come into place.
"Now we've got somebody we can go to if something comes up once Brexit goes live," he says.
"There's new things that come available, like support grants, and keeping that relationship with the Local Enterprise Office has been great. They're very much productive in terms of help, and they're very engaged with our business, which is great."
Oisin Geoghegan, Chair of Network of Local Enterprise Offices in Ireland, stresses the importance of small businesses preparing for Brexit now.
"The biggest issue we are seeing with small businesses it that they expect a deal to be done and that they won't have to change anything," he says. "This is wrong."
Oisin Geoghegan, Chair of Network of Local Enterprise Offices in Ireland.Source: Local Enterprise Offices
"Irrespective of whether a trade deal is agreed or not, the customs procedures are changing. There are no more delays or transition periods, this is it. On January 1st the UK will be gone from the EU and companies need to ensure they limit the impact that this will have on them. If businesses prepare now, they can ensure there will be no delays with their goods come January and no issues that could affect their trading."
Many companies have also used the new regulations as a chance to look at new markets and even increase their growth, looking beyond the UK which they may not have done before.
To start preparing, Oisin says the first thing a company should do is apply for an EORI number.
"Then they need to evaluate how exposed they are to the upcoming changes. Some businesses may be unsure where to start and I would say, reach out to your Local Enterprise Office if you are in any doubt at all and we will get your started."
Are you getting your small business ready for Brexit? The Prepare Your Business for Customs workshops with Local Enterprise Offices are open to all businesses who want to ensure they are ready for the new customs procedures that will begin on January 1st. If you are part of a small business and want to avail of the programme or want to understand if your company is Brexit Ready, contact your Local Enterprise Office or visit LocalEnterprise.ie/Brexit.